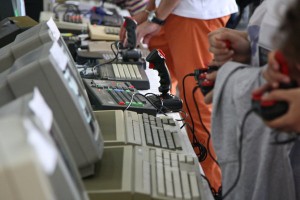 Association  Once Upon a Byte, Department of Applied Computer Science Faculty of Technical Sciences, Department of Geography, Tourism and Hotel Management, Faculty of Science and LUGoNS invite you to visit the exhibition "New hardware on old computers" in the Night of the Museums in 2014. Old home computers from 80's of last century and the new hardware that was made for them in the past few year will be shown on exhibition.
Night of the Museums 2014 , 7th June 2014
The exhibition will be in the Zepter bank building, Grčkoškolska 2.
http://www.nocmuzeja.rs/2014/Novi-hardveri-na-starim-racunarima